It is undeniable that well-defined sustainability practices are becoming less and less of an optional program for organizations to adopt and, more and more of an essential core business practice. Society is looking to companies to invest in Environmental Sustainability and Corporate Social Responsibility (CSR) practices, putting more trust in companies that demonstrate that they care about their communities. A strong focus on sustainability also bolsters an organization's bottom line and, most importantly, makes a needed impact on the future of the planet.
While many organizational leaders understand the importance of adopting sustainability practices, they simply don't know where to start. Never having built a sustainability strategy before, they don't know what steps to take to develop one. Or, if they have begun to implement some simpler sustainability practices (such as energy and water conservation), they don't know what to focus on next to expand their impact. Expectations on companies to lead the way can make implementing sustainability practices feel overwhelming. Lack of a concrete sustainability strategy or a plan to manage sustainability can also leave organization leaders not knowing where to begin.
However, in our work with clients, we have found that many of them actually already have existing systems and processes that could be used to manage sustainability. They also were already addressing most, if not all, of the 4 core Sustainability Criteria: Environment, Operating Practices, Products and Services, and Community — they just didn't realize it. This is how we developed a framework that organizations can use to understand and manage their impacts, risks, opportunities, and legal obligations related to sustainability, and to continually improve performance.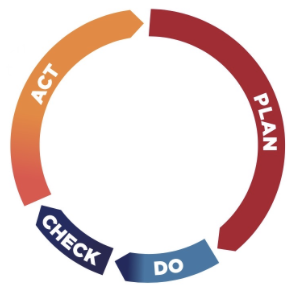 The basis for this system-based approach is a gap analysis utilizing the PLAN-DO-CHECK-ACT (PDCA) process, which breaks down projects into smaller, more manageable steps:
PLAN relates to the identification of risk and opportunity, and setting objectives based on the priorities to deliver results in accordance with the organization's policies.
DO involves the implementation of processes to manage the risk and / or opportunity (e.g., development of procedures, training, communication, etc.).
CHECK pertains to monitoring and measurement of processes against policies, objectives, legal requirements, and voluntary obligations (e.g., audit process).
ACT means taking action to continually improve the performance of the management system and reporting of the results.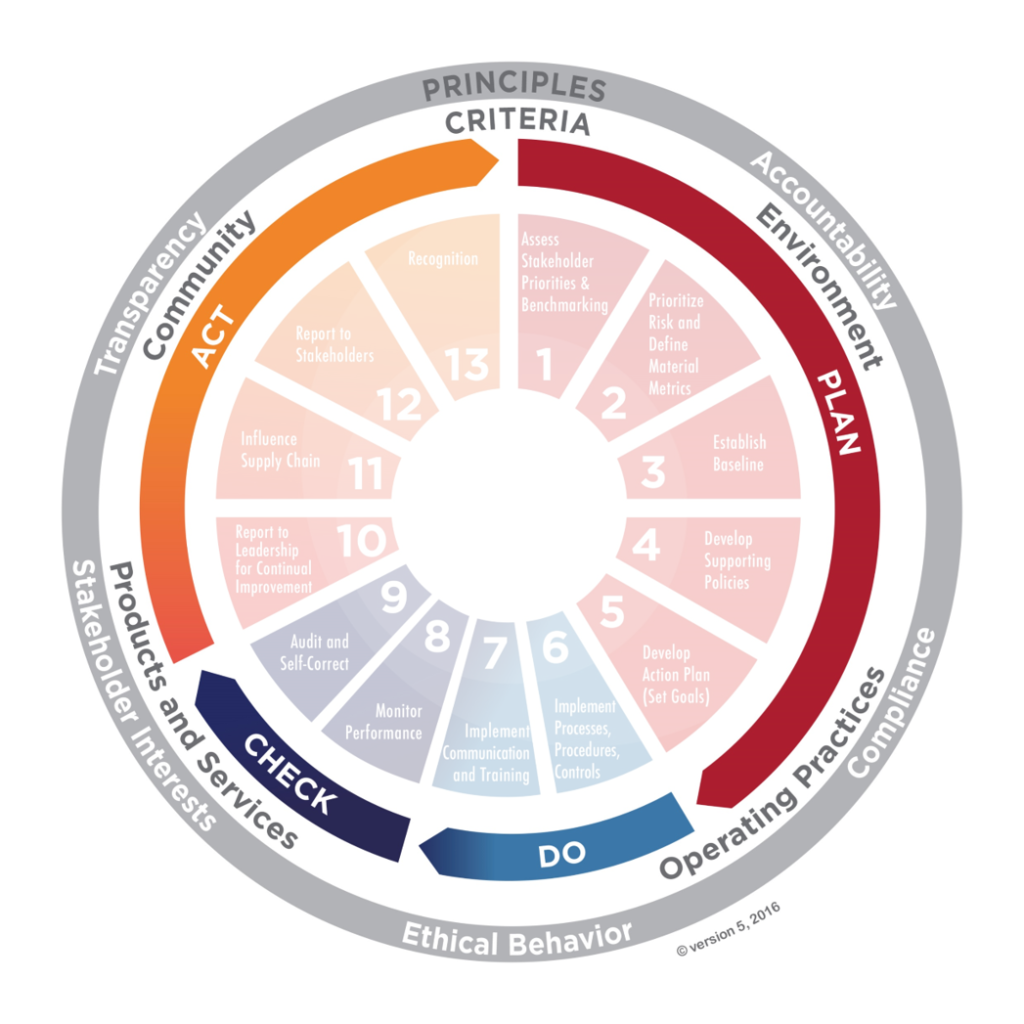 This 13-step process shows them how to move forward from the use of existing successful processes (e.g., risk management), software (e.g., SAP), and spreadsheets (e.g., KPI trackers) to identify gaps in the program to successfully implement, monitor, measure, and report sustainability metrics, such as energy used, waste generated, etc. This approach is based on processes such as those for prioritizing risk associated with environmental aspects, occupational health & safety hazards and quality used as part of ISO 14001, 45001 and 9001 management systems. Companies utilizing these systems are, by and large, more efficiently able to monitor, measure, and minimize their impact on the environment while consistently delivering high quality products in continuous-improvement cultures.
Amway, the world's #1 direct selling company, used our Sustainability Toolkit framework to enhance their plans and processes for implementing sustainable practices throughout their company such as establishing a waste recycling rate and increasing stakeholder engagement. After implementing the Toolkit, Amway Canada's National Marketing manager, Angela Abdallah, was thrilled with the results. She stated:
---
"We have found the Sustainability Toolkit designed by Tavares [Group] Consulting to be an incredibly simple and easy to use process. We're excited about the results and are anxious to implement a number of initiatives to help fill the gaps that were identified. I would highly recommend the Toolkit to any organization interested in sustainability."
---
With the right framework to follow, implementing sustainability practices within an organization doesn't have to be difficult or overwhelming. Even better, when a company is able to use existing systems to manage sustainability going forward, the process becomes even simpler.
Our FREE Sustainability Strategy Simplified document explains how to get started with your sustainability strategy and how to manage it in an efficient way. Get your copy today and start implementing and managing sustainability efficiently.
#corporatesustainability #sustainabilityreporting #corporatesustainabilityandresponsibility #corporateresponsibility #corporatesocialresponsibility