Everyone has a management system, whether informal (e.g., processes and procedures) or formal (e.g., certified management systems such as ISO 9001 for quality, 14001 for environment, or 45001 health & safety) that can be used to manage a number of sustainability issues, including regulatory and circularity issues. Concern about the balance between economic, social, and environmental issues is no longer confined to academics. Every company/business has the opportunity to increase awareness and develop a strategy that reduces environmental and social impact.
Is It Really Important?
Do you believe using a management system to direct and lead a sustainability strategy is overwhelming or only for large corporations?
If you shook your head in agreement, you're not alone! (Don't worry, this is a common myth that MANY individuals believe.) Let's dive in and allow us to show you how the approach to developing a sustainability strategy is critical to its success.
In today's world, the demand for transparency with regard to social and environmental issues has increased immensely. And so, it's important that companies integrate this and other sustainability principles and frameworks within their day-to-day operations.
According to Forbes, "Although 90% of executives think sustainability is important, only 60% of companies have a sustainability strategy. Often, companies that speak of being sustainable are lacking when it comes to implementation."
Proof This WORKS
There are common specific steps/phases of a management system/framework that are crucial to addressing sustainability issues (and other business functions such as quality or occupational health & safety), no matter what sector or size.
We applied this same approach to develop successful strategies for clients in disparate sectors and sizes of organizations.
For example, take a look at one of our lifestyle retail clients. They used our Staarsoft(R) Sustainability Toolkit approach as a guiding framework to understand where and how to start the process of sustainability planning and implementation. It "reinvigorated" sustainability planning from the ground up. In this case, starting small and feasible was paramount to getting buy-in from the executive team for a more strategic and integrated sustainability plan.
For this client, this meant obtaining data as a top priority to get a broad understanding of the environmental (1 of 4 Sustainability Criteria) footprint and mapping this information in relation to internal stakeholder needs. Although the process wasn't followed linearly, they were able to unite their disparate efforts in order to map out their strategy. Sustainability Metrics were prioritized (i.e., materiality was determined) and programs developed to manage and improve the environmental footprint based on the following commitments:
"Reduce operational impacts on the environment by improving performance in the areas of energy conservation and waste management
Improve the sustainability of products through product design and packaging, and through responsible purchasing practices and policies; and
Work collaboratively with partners to strengthen sustainability commitment by increasing awareness and building engagement among vendors, employees and customers."
Execute Sustainability: Our PLAN-DO-CHECK-ACT (PDCA) Framework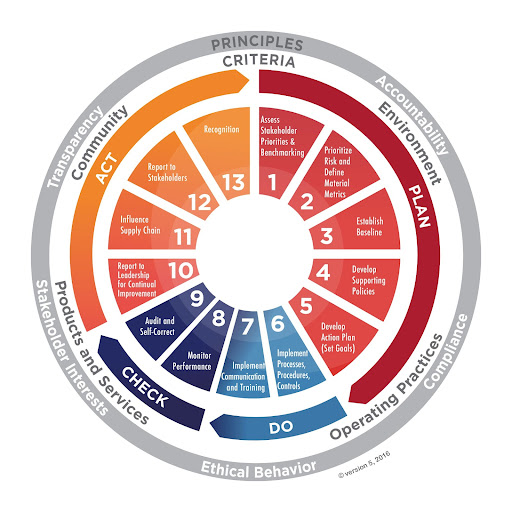 Here is what your organisation needs to develop an impactful Sustainability Strategy:
A simple step by step approach to sustainability management that addresses your organization's material issues (i.e., what sustainability means within your organisation) by identifying gaps and actions,and paves the way for continual improvement thus taking your sustainability program to the next level.
Interactive reports and data visualizations that allow you to track and directly compare your progress at a single location or organisation-wide.
The Value Of A Sustainable Strategy
Building a sustainable business means higher brand recognition, increased profitability and efficiency which will lead to new opportunities. Sustainable organisations are better equipped to thrive in the future. They're more competitive, profitable, and resilient.
A sustainable organization has a positive impact on its customers, employees, suppliers, investors, and the community. And it's easier to attract and retain talented staff when you offer a workplace where everyone feels valued and respected. Ultimately, making it an effortless decision for customers to buy products and services from your company and suppliers to do work with you as well.
We know that sustainability comes with its challenges. We understand that organizations are overwhelmed with information, experience a lack of resources and may lack the necessary expertise. Staarsoft® simplifies Sustainability planning, implementation, and reporting — better and faster. Contact us for a demo.