Supply chain risk management remains a challenge for organizations, especially if they don't have a systematic framework to approach complex supply chain risks.
Over the past year, organizations in all sectors have experienced both existing and emerging supply chain risks in tandem. These include traditional risks like price volatility, quality control, legal risks, risk of supplier bankruptcy, and on-time delivery and often unanticipated risks like Covid-19, weather and storm conditions, cyber-security breaches, and responsible chemical distribution. For these emerging risks, organizations in different industries have had to respond with agility.
Covid-19
The wine industry was hit hard with Covid-19 with quarantines restricting in-store sales and lockdowns limiting visits to wineries. According to a Prowein report on the global wine industry during the Covid-19 pandemic, 25% of wine businesses had turnover or needed to close during the pandemic. Importers of fine wines struggled due to their close links to the restaurant and hotel/tourism industries, said sommelier Réza Nahaboo. The wine industry didn't suffer quite as much as restaurants and hotels, 77% of which had to have at least temporary closures during Covid-19. Meanwhile, the retail wine industry actually experienced an increase in sales by 38%, which shows how shifting consumption patterns affected the industry unevenly.
Reliability issues around PCR testing and quarantining periods for 7-14 days in many countries around the world created unnecessary administrative delays and associated financial costs for vineyard migrant workers.
Winemakers responded to these challenges in a variety of ways. For example, the Liquor Control Board of Ontario ( LCBO) responded to changing needs to ensure customers felt safe, while also preventing economic losses. Some of the actions taken were to provide curbside delivery, supply larger formats for people wishing to take less trips to stores, and expand same day delivery options. LCBO also improved its sustainability initiatives and featured local Sustainable Winemaking Ontario Certified wines, in line with its Spirit of Sustainability Strategy. Making these adjustments requires supply chain management strategies.
Weather and storm conditions
Companies are responding to unpredictable weather patterns by diversifying their supply chains across diverse geographic locations. But not all industries can do so, such as the location-specific construction industry.
For large infrastructure construction projects, extreme temperatures, floods and storms present unique challenges from a sustainable supply chain perspective. Ensuring worker health and public safety, using building materials economically and efficiently, engineering proper stormwater drainage and sewage systems, making environmental and soil quality assessments, managing waste, and preserving healthy wildlife habitats and cultural heritage sites are all supply chain issues in a sense.
Construction firms need to manage the suppliers and codes of conduct to meet these aims, while completing projects on tight schedules. These are all challenges that can be more easily overcome with a structured supply chain risk approach.
Cyber-security
In spite of its many benefits, our communications technology has led to additional data security risks. For example, the 2017 Equifax data breach exposed the personal information of 147 million people. The incident not only led to a legal settlement which will likely cost the company $575 million to mitigate the risk, it exposed them to significant reputational damage.
EU's General Data Protection Regulation (GDPR) emerged in response to growing concerns about data security. In our globalized economy, ensuring such standards are met across a supply chain is important for delivering the value customers expect.
Responsible distribution of chemicals
Over the past decade, we have come to understand the risks and interactions of commonly used chemicals in the environment. Chemicals are volatile substances, so it's important to maintain proper distribution and storage across the supply chain. The chemicals industry is the most likely to experience fires and explosions in its supply chain, and it suffers from other supply chain issues like demand variability and supplier reliability.
To address some of these issues, the independent non-profit Responsible Distribution Canada (RDC) has created a Code for Responsible Distribution to raise the standards for handling chemicals. Organizations can now become third-party verified practitioners of their code.
All of these examples show that unless organizations take a proactive, risk aware approach to managing their supply chain, they could face mounting difficulties as unanticipated risks continue to emerge.
How to manage supply chain risk with a systematic approach
With so many issues to track and monitor across a supply chain, organizations are finding that it's necessary to automate their supply chain management systems. Following the initial shocks of COVID-19, 34% of chief financial officers surveyed by PricewaterhouseCoopers in May 2020 said they plan to use automation to improve their agility.
The benefits of automation include collecting data and closely monitoring supply chain effectiveness during changing circumstances. Automation also makes risk management more feasible. A recent Verdantix study highlights how risk management, in particular, ranks among the most popular software investments for environmental, health and safety (EHS) right now.
Staarsoft® Sustainability Software can be used to manage, compare, source, and review suppliers for a number of important considerations: adding value, efficiency, transparency, legal compliance, and environmental and social standards. Whereas a supply chain analytics software primarily focuses on data collection, Staarsoft® can be used as a comprehensive management tool for creating a consistent, comprehensive supply chain risk management process within an organization.
Planning: Identify and prioritize supply chain risks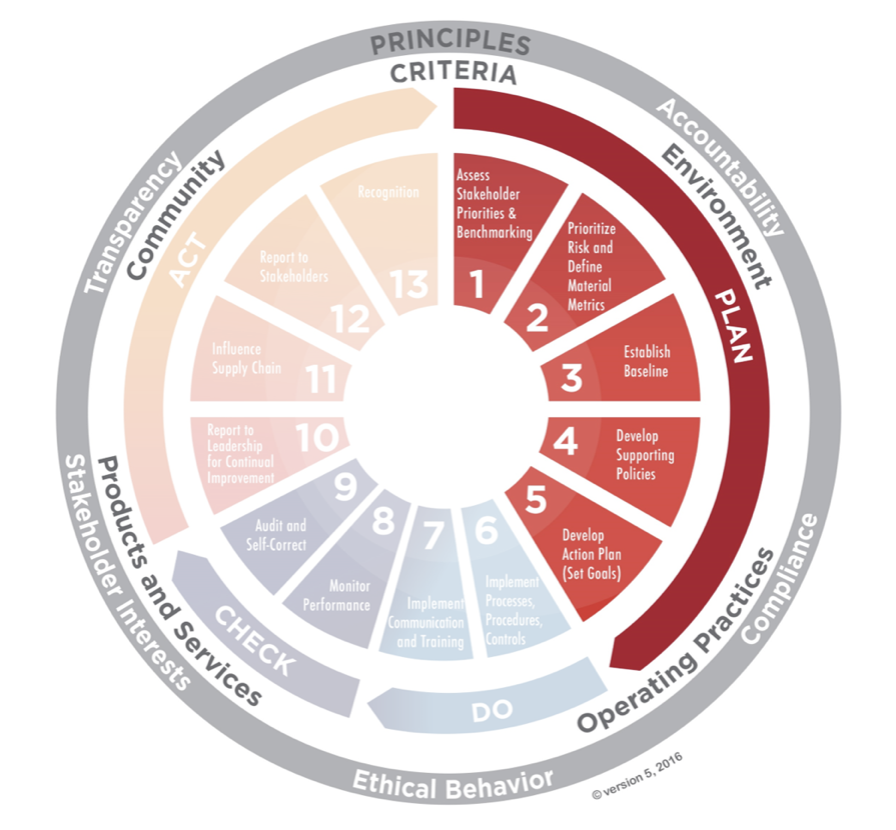 Using a supplier lifecycle perspective, your organization can apply the steps in the Staarsoft® Sustainability Toolkit to review your supply chain. The system is broad enough to encompass a sustainability management project of any size including a targeted review of your supply chain risks.
Step 1 – Assess stakeholder priorities and benchmarking
The first step involves a review of the organization from a supplier lifecycle perspective and then establishing relevant benchmarks for the organization or division by drawing comparisons according to division, sector, or by analyzing industry leaders.
Step 2 – Prioritize risk and define material metrics
Organizations such as the ones highlighted above then identify their known supply chain risks as well as ones that are emerging. They prioritize these based on the significance to stakeholders and the level of potential risk for an organization. Prioritizing unpredictable events may include reviewing the vulnerabilities of the supplier locations, policies, and contractual agreements and selecting the best strategic position the company aims to take.
Integration: Build your supply chain risk management program
The Toolkit then leads your organization through a series of steps that enable you to integrate your supply chain risk management program throughout your organization.
Step 3 – Establish baseline
Your organization may already use certain standards or frameworks for sustainability reporting for its supply chain. This becomes part of the operational baseline for managing supply chain risk and it helps the organization assess any gaps.
In this step, there is also an opportunity for establishing past performance (e.g., sustainability sales for the wine industry, the impact of environmental emergencies, and/or cybersecurity risks, etc.) for which to improve (Step 5) and monitor (Step 8) an action plan.
Step 4 – Develop supporting policies
To fill the gaps identified in Step 3, organisational commitments must be developed as a framework for the program. For instance, organizations which consider cyber-security a material risk, ISO 27001 Information Security Management and certification could be a logical commitment. The Staarsoft® approach places the certification of any standard, including ISO 27001 and Responsible Distribution, as a Leadership action.
Step 5 – Develop an action plan (set goals)
Your organisation's action plan should include key objectives or goals to address risks identified in Step 2 improve your supply chain resilience and performance identified in Step 3 in a specific timeframe.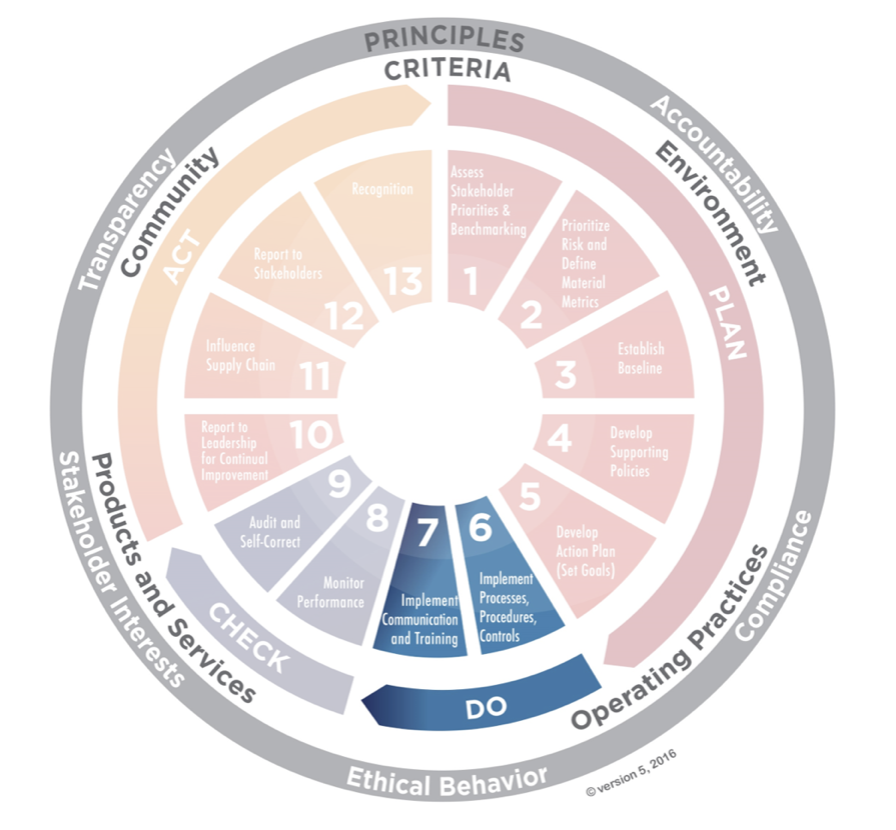 Step 6 – Implement processes, procedures and controls
Your organisation fulfills the steps it needs to take to move the needle forward on its goals.
Step 7 – Implement communication and training
Whether it's an updated code of conduct or security measure you've decided to put in place to address a particular risk, it's important to inform and prepare all relevant parties (i.e., stakeholders) for these changes.
Strategy: Check and monitor risk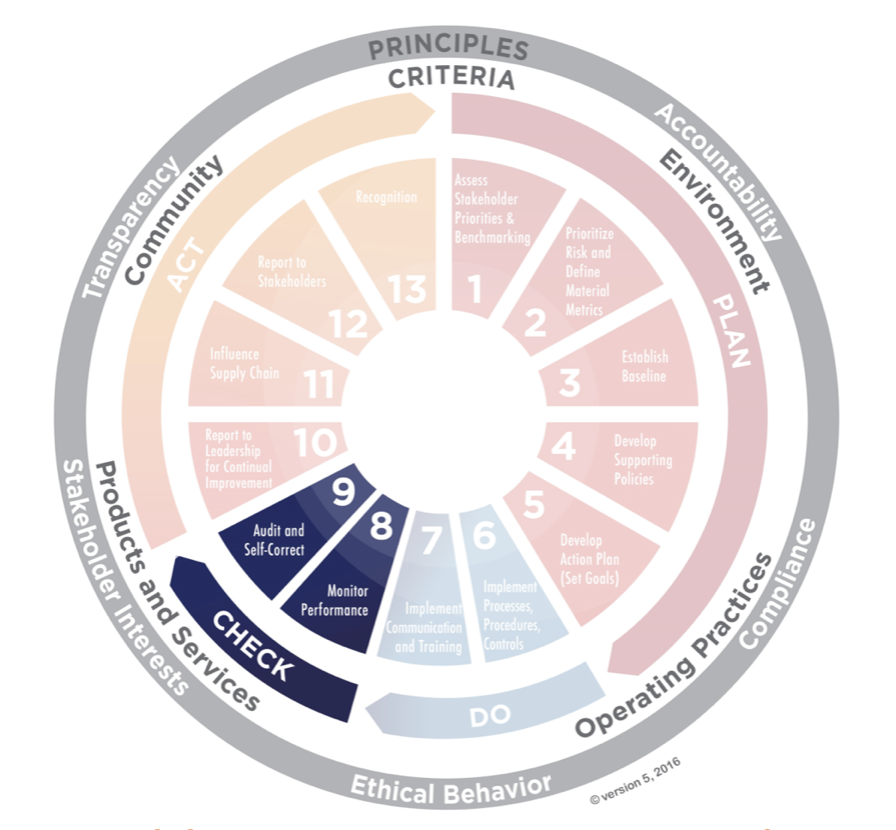 Your organisation's supply chain strategy depends on effectively tracking and monitoring how well your program integration is performing and the extent of your organisation's exposure to various supply chain risks.

Step 8 – Monitor performance
The Staarsoft® Sustainability Software dashboard allows you to track and monitor the performance of your program to make strategic decisions about the impact it has made.
Step 9 – Audit and self-correct
Based on your performance review, the software promotes a continual process of improvement through this critical step.
Resilience: Take responsible and transparent action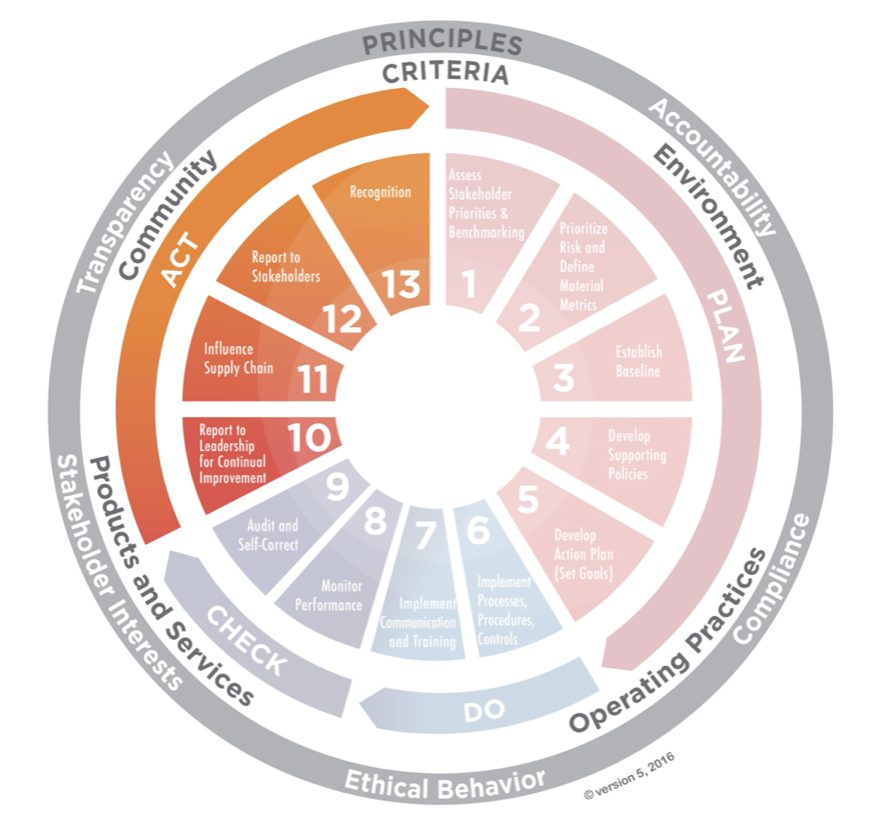 Supply chain resilience depends on a shared understanding of the critical values an organisation upholds through its sustainability management systems. To improve resilience, organisations apply the principles of transparency, accountability, and ethics by reporting their risks, goals, and key performance indicators to key stakeholders.
Step 10 – Report to leadership for continual improvement
With our software, it's easy to communicate supply chain management details in a systematic way to leadership.
Step 11 – Influence supply chain
Updates to sustainable management are specifically enacted throughout the supply chain in this step.
Step 12 – Report to stakeholders
Your organisation provides a transparent presentation of its activities and performance to internal and external stakeholders, which could be in the form of an ESG report.
Step 13 – Recognition
As a result of your actions, recognition in the form of press, a presentation of awards, or another action should result from undergoing all of the management steps for your program.
Defending your organisation against emerging risks
Intelligent risk management doesn't just deal with traditional risks. Organizations should review emerging risks and prepare for unanticipated risks both internally and across sectors using a standardized, cyclical review process across a given time period.
The Staarsoft® software applies a Plan Do Check Act (PDCA) management approach to supply chain sustainability. A PDCA approach helps companies prioritize their risks, addressing and reviewing them in a timely, organized and proactive fashion. The software delivers a useful roadmap for an organisation's supply chain strategy as part of the overall sustainability strategy.
There are a number of ways our software minimizes the likelihood of disruptions to a supply chain.
Draw comparisons: The software facilitates supplier comparison across different sectors. This way, organizations can subdivide their suppliers into groups or classes to understand their strategic importance.
Communicate value: The software supply chain management system aids transparency. Using the software, organizations can communicate their supply chain sustainability to customers and investors, as well as other stakeholders. This can improve an organization's reputation and shield them from reputation-related risks, such as when customers are dissatisfied and speak out against their supply chain policies.
Respond to risk proactively: By effectively implementing the Starsoft® supplier management approach, organizations can start to anticipate and respond proactively to emerging risks in advance of other companies. This itself can serve as a competitive advantage, when competitors fail to respond in a timely fashion. Compliance with emerging laws and regulations becomes more efficient, through tracking and management in a single system.
Supply chain risk management requires a delicate balance between addressing risk while also providing value to customers with competitive advantages such as fast delivery, advantageous pricing, and product availability.
It encompasses the contractual agreements between a brand and its supply chain network, as well as clear communication throughout the supply chain. Stakeholders including employees, customers, investors and suppliers need to be aware of organizational policies, aims and strategies.
Due to the complexity of supply chain risk management, companies are choosing to automate their supply chain management systems. Staarsoft® sustainability software brings your organization the best practices for managing, sourcing and comparing suppliers. All of our software is stored in the Google Cloud which is ISO 27001 certified, and we uphold the same sustainability standards we help others implement.
Does your organization have a resilient, adaptable management system in place? To learn more about our sustainability and supplier risk management software, contact us today.